The Games category includes: board games, cards, educational, fantasy sports, hand games, online games, puzzles, role playing, trading cards, video, and words and trivia.

Featured Games Websites
Offers numerous entertainment options, including web games, videos and quizzes. The website has tips on how to make money online by playing games and completing surveys. There are also multi player games available here.
A brain-training site for everyone (not just kids). Here logic and thinking meet fun and games. The games have no violence or empty action. They offer many challenges that can make you forget you're doing a mental workout.
A fun site for teachers, parents, and kids. It features free educational games, coloring and much many. PBS KIDS games offer learning adventures with all your favorite PBS KIDS TV characters.
Learning and games to promote learning. Slick Net has the philosophy that learning is fun. From space toys to travel tours for older students, you can discover some cool ways to be entertained while being educated at the same time.
A free strategy guide and walk-through wiki for a diverse array of game categories. The site features guide pages, discussion forums and chatrooms, a community portal, file upload section and site help. You can learn from and contribute to community gaming knowledge.
Benefits from Playing Computer Games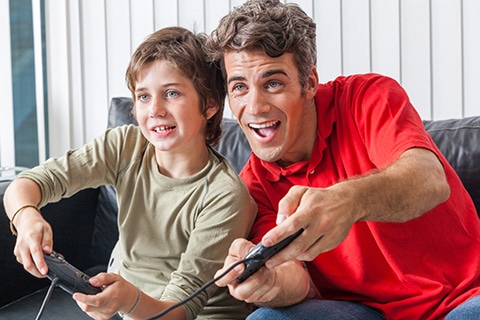 It's not all bad. Playing computer games has many benefits, including these.
Creativity and logic skills
Most people live by the belief that computer games are purely recreational and time-wasting. They easily forget that they are not only great in enhancing one's hand-eye coordination as well as their creativity and logical thinking. Computer games such as Tetris and Sudoku are designed to develop students' logical deduction and creative thinking skills. Games based on real life simulations such as Flight simulators and the Euro Truck Simulator are known to teach the gamer real world skills that will seamlessly blend into their daily activities outside of the gaming world. Computer games have different approaches and each level is truly a different challenge. This teaches you that there is always a different way to tackle a problem, thus enhancing your creativity.
Critical thinking
As one starts playing computer games, everything is so easy; the levels are less complicated with fewer moves required. As they start moving up the levels, the game starts being more complex, calling for more gaming skills and mental effort. With games, every step is never the same and it will require the gamer to think their way through. This helps a great deal in developing one's critical thinking skills and strategy. In fact, research shows that students who play computer games are better equipped with creative and critical thinking skills as compared to their counterparts who do not play these games.
Strategic planning and management
While every game is absolutely different from another, one thing remains constant; the gamer needs to make the most use of whatever they have been given. This may include manpower in terms of lives, their time and even resources such as weapons. With proper management of these resources, the probability to win a game is usually higher. Sometimes, the game demands that the player earns bonus points to be used in purchasing other lives and resources. A good example is the Euro Truck Simulator that lets the player balance how to earn their money and use it to conduct repairs, replacements and even purchase better trucks, buy garages and employ drivers. This helps develop one's strategic planning and management skills by a great deal.
Problem solving
Computer games are usually fast and they give the player lesser time to decide on how best to respond to different challenges and frustrations. These games teach the player that not all situations can be handled by perfectly following official documentation, but by incorporating creativity and critical thinking. Computer games teach situational awareness and estimation skills, which are extremely important in easily and quickly judging and deciding the best way to solve the problem or situation at hand.
Patience and perseverance
Computer games are not all about speed and quick action. At some point, the player will be required to wait for the perfect moment to strike, failure to which they may lose points or even lose the game. Perfect timing is very important and it requires a lot of patience. Computer games, just like any other game hold to the core rule that you can't win if you quit. Things are bound to get really tough during the gaming experience. There are moments when you literally can't move forward, but perseverance and persistence will get you to learn better gaming skills and become more creative. At the end, you will be a better player and move to even tougher levels. This teaches students patience, perseverance and tenacity.
Socialization
While the most common stereotype of gaming is that gamers are asocial and antisocial, it should be understood that computer games are basically another outlet for social interaction. There is great teamwork when playing with others whether online or offline. Students who play games have been known to possess better cooperation, leadership skills and communication skills as they are able to work comfortably in a group while synchronizing tasks, mobilizing their friends, resolving conflicts and motivating others. These skills are some of the most important in the student's social life.
Memory and concentration
Computer games require a great deal of recall and concentration. A slight diversion of concentration from the game can be fatal to the characters of the game as it alters their ability to reasoned judgment and faster action. Recall of the instructions given is a must as this is the basis to successfully moving through the game levels successfully. Not to worry, all these smoothly grow in complexity, starting with simple and shorter instructions to more complex and longer instructions that demand higher levels of concentration. This greatly improves the student's memory and concentration; exactly what makes students who play computer games more brilliant as compared to those who don't.
Categories Related to Games